For over 50 years, Entrelec has been one of the leading manufacturers of terminal blocks, with products in use all over the world. Markets and applications include: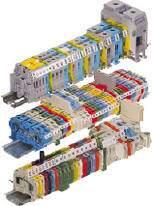 ● Process Control
● Large and small panel
building
● Machine Tool
● Energy/Utility
● Railway/Transport
● Chemical/Petrochemical
● HVAC
● Ship Building
● Building Automation
● Instrumentation
● Utilities
● Automobile
All terminal blocks are manufactured using only the highest quality materials and carry UL, CSA, VDE, IEC and other worldwide approvals. Entrelec offers space-saving, industry standard DIN rail mountable module terminal blocks with the colors, functions and connection technologies that customers demand. The industry's most identifiable termination technologies are:
In addition to general purpose terminal blocks, Entrelec offers definite purpose products such as Distribution, 5.08mm connection, Power, Mini, and ATEX terminal blocks to satisfy the specialty needs of their customers.